Website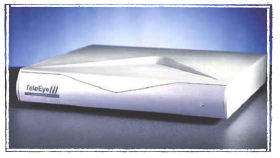 TeleEye makes use of telecommunication media to allow users to visually monitor their remote business anywhere, anytime. A complete line of video transmitters and software is available for phone line, broadband Internet, LAN & mobile networks applications.
TeleEye was established in 1994, and since then has been producing products which allow people to visually monitor remote locations from anywhere, at any time, through phone lines, Internet or wireless network. Their products have won numerous awards and have good commercial value.


Some of their products include:
SMAC-M: The first multi-stream video coder in the market
sureLINK: Low cost dynamic IP Internet connection
BS 8418: British standard of remote video surveillance
Network CCTV
Ideal for video surveillance through various communication channels. With a newly built-in RJ-45 interface, it can achieve a maximum frame rate of 30fps on a LAN....


TeleEye (stock code: 8051) shares close with 1.26 times premium on the first day trading.
Want to get some hand-on experience on TeleEye? Download the Demo software from their website and connect to their demo sites....
Read More
Live Video on ADSL
TeleEye III has been recently employed by a local computer retail chain for remote business management using ADSL technology...
View manuals for all TeleEye products from TeleEye's website by following this link (pdf format)

A TeleEye Remote Video Monitoring System consists of:
Network Video Transmitter
Phone Line Video Transmitter
Mobile Video Monitoring
Application Program
Accessories (optional)